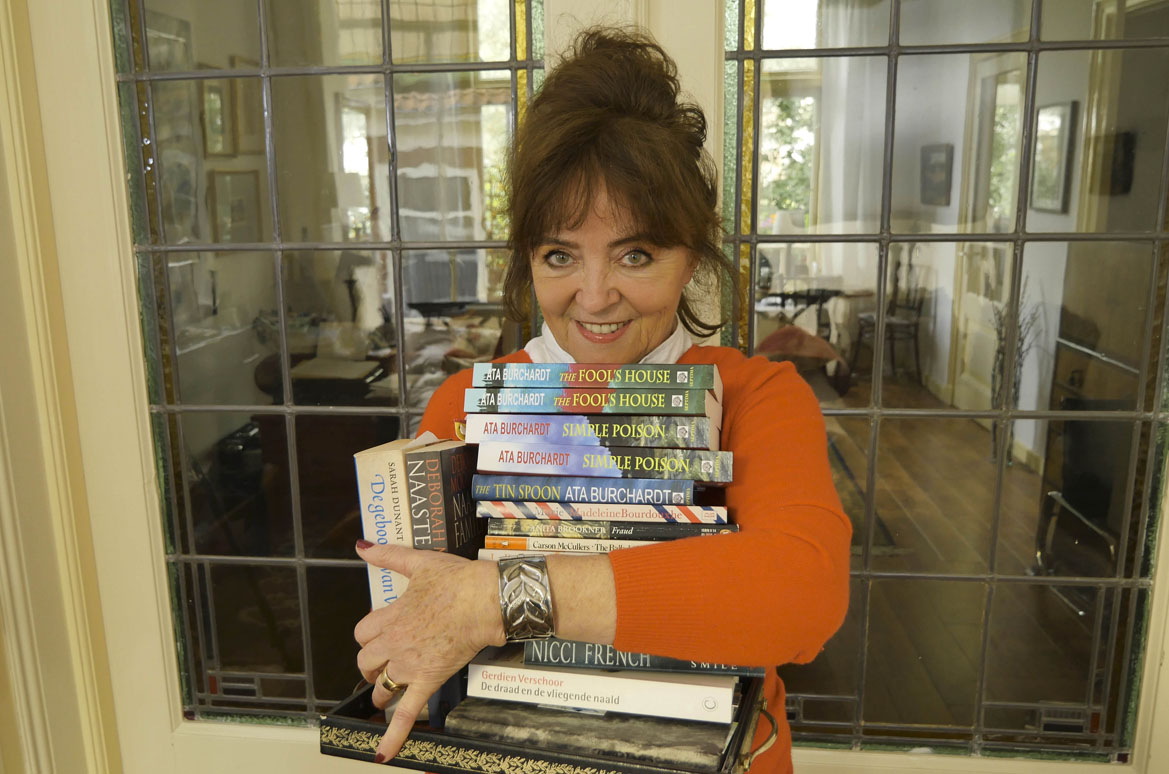 New  workshops in Creative Writing in English in Delft.
Astrid Burchardt is the author of The Languedoc Trilogy and The Tin Spoon (writing as Ata Burchardt). She worked as film translator for the British Film Institute and the National Film Theatre in London, as art director and art editor for BBC magazines and London's city magazine Time Out. In France and Germany she worked for advertising and fashion magazines, edited the short fiction magazine Writers' Voice, France. Back in the UK, she took a creative life writing course at Oxford University. Until 2016, she wrote for magazines and helped people to write their memoirs. She was sub-editor of StageTalkMagazine.com in the UK and in Delft she is deputy editor and reviewer for ArtsTalkMagazine.nl
You've moved countries many times – you now live in Delft. What brought you here and what are you doing now?
I moved here in April 2017. I was brought up and educated in France and have always felt more in tune with people on this side of the Channel – and then there was the chaos of Brexit. Initially, I just wanted to sit and write my third, fourth and fifth book here in Delft.
But things have developed. Since the beginning of 2018 I've been teaching short creative writing workshops in English here in Delft at the VAK centre for the arts.
What is the VAK?
It's a unique centre for all things creative with incredibly motivated and motivating teachers. The VAK has just moved to the first floor of Delft library, opposite the Theater de Veste, five minutes' walk from the station and the tram.
People on my courses have come from Den Haag, Rotterdam and Leiden, all of them just twenty minutes away, thanks to the great transport connections. Half an hour after their class they can be home again.
There are a lot of English speakers here.
That's why the VAK and I are very happy to offer my course. I regularly meet with young writers of all nationalities who write and speak fantastic English and who have ambitions to write books. Most use the English in the work place in IT, for the big international companies or at the universities in Delft, Rotterdam and Den Haag, so their vocabulary is quite 'business' influenced – because of this their writing often doesn't quite read like the English one expects to find in English language novels. Some are also very influenced by the language heard in Netflix films rather than literature or the written word in journalism for example. In my workshops all this is quickly resolved. With a bit of tweaking they can make good writers.
What is the advantage of taking a course?
My workshops are a condensed version of the course I took at Oxford University. The biggest advantage is that a course helps you to start and structure the writing time – keeping up the momentum seems to be the biggest problem against the daily obligations of work, children or the distractions of everyday life. The course shows how to research and how to make use of everything one experiences and build a story.
Another big advantage is that by working together on my course the people very quickly develop real trust. It takes away the fear of showing their work to others. It drives them on to come back every week with a new piece of writing – it can be a short paragraph or a chapter or just some research, as long as they do something to progress their project. They benefit enormously from the feed-back in the group – they are in fact each other's first audience.
Most people have a head full of ideas but often don't have the confidence to start. Unfortunately, thinking about a book doesn't get it written. 'Just keep putting words on the page,' is Margaret Atwood and Stephen Kings' advice. My own mantra is, 'If you don't write it down, it doesn't exist'. Just half an hour a day can do wonders, so that's why a short course is ideal to set someone on the road to getting a book going.
I love to teach and to help people realise their dreams. People get a huge emotional high from making a reality of an idea.
I read somewhere that if you ask people what their dream job would be, 80% say they would want to be a writer, or at least see their name on a book in a shop.
That's because they imagine one just sits there and writes and when you've written 'The End' the book is suddenly being sold in the book shops. Writing the story is the smaller part of the process. It is the editing and the proofing that take up most of the time.
Why only run short courses? Why not give a course throughout the year?
At the VAK we are aware that everyone is very busy. It's so hard to commit to long stretches of time, so we are doing short blocks over no more than eight weeks through the winter and spring. We set the courses for the evenings so adults can attend. It is terrifically enriching for people to get away from their work, or their children, and do something creative for themselves.
And what are the dates and times of the next course?
The first block of eight sessions runs from Thursday, 1st November  – 13th December and they run from 19.30 – 22.00. After that people can sign up for the next block in which they can progress further.
Click here for more details and enrollment information.