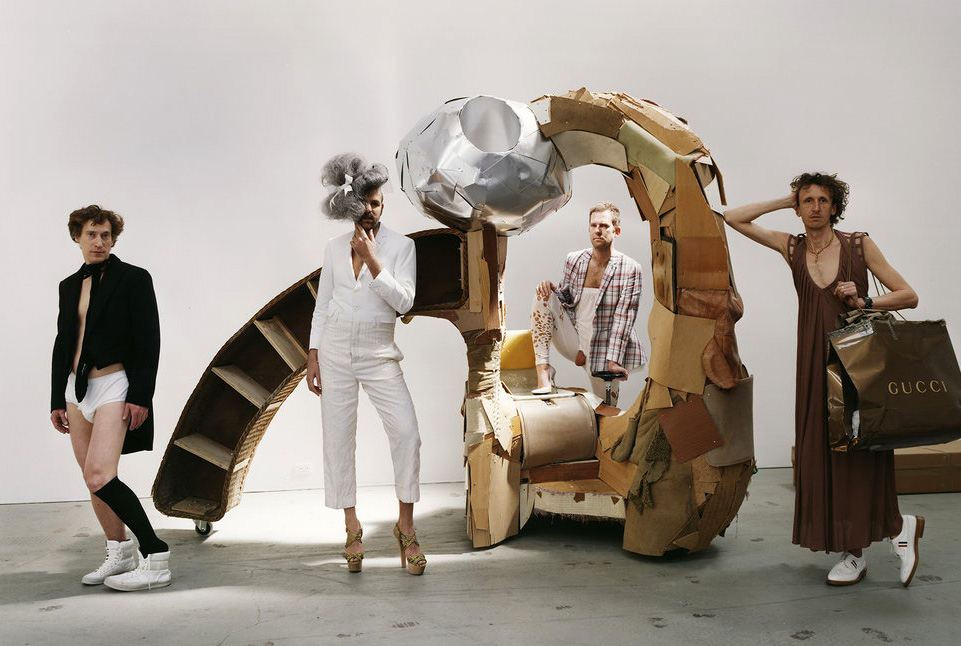 19th May – 12th August.
This summer the large Bodon Hall of Museum Boijmans Van Beuningen will be taken over by the sensational and internationally acclaimed artists of Gelatin. Under the title: Form – Fellows – Attitude, new rebellious work is shown, entirely in the humorous and unpredictable style of the four-piece resident in Vienna.
Gelatin's humorous, contagiously enthusiastic, non-hierarchical and subversive works require curiosity, an open mind and active participation of the visitor. They are of an absurdity and directness that confronts us by placing social conformism and taboos in the foreground and breaking through.
Gelatin works on the border of painting, sculpture and pop music, of architecture and sports, performance and fashion, of staged events and spontaneous conversations, which as a whole escape any attempt at categorization. They have played a prominent role in the international contemporary art scene from years since Vienna.
Curator of the exhibition, Francesco Stocchi, compares Gelatin with a bar of soap: "As soon as you think you have a grip on them, they slip away and hold their essence in your hands." The new sculptures that have been made especially for Rotterdam are in a long series of works and sculptural concepts with which Gelatin has been underway for more than twenty years.International fame Museum Boijmans Van Beuningen has the established tradition of giving a stage and total artistic freedom to artists of international renown who for the first time show work in a large Dutch institution. Previously, the museum exhibited works by, among others, Urs Fischer (2006), Erik van Lieshout (2006), Andreas Slominski (2007), Pipilotti Rist (2009), Carsten Höller (2010), Marijke van Warmerdam, Ugo Rondinone (2016) and Tal R (2017).  Photo: Jason Schmidt