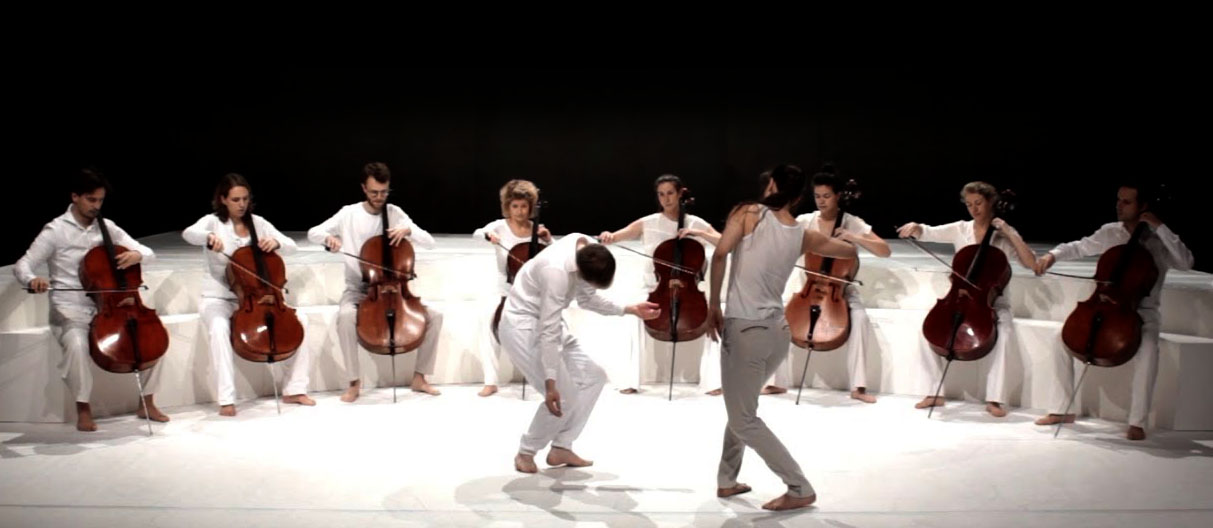 The Netherlands has long been acknowledged as one of the world's foremost exponents of modern dance and nothing brings that more into focus than the 2018 Holland Dance Festival which has just opened, based in The Hague.
Since its inception thirty years ago, the Festival has built on the very solid foundations of Dutch talent and innovation to become a truly international event with, this year, over fifty international performances from nineteen different countries. Our first visit demonstrated this diversity and the power of the universal language of dance and music.
The event fused the unique talents of the Cello Octet Amsterdam and choreographer Samir Calixto from São Paulo in Brazil who, to the music of Estonian composer Arvo Pärt, presented the world premiere of Summa in the wonderful atmospheric space that is The Hague's Korzo Theatre.
The all-white stage, set and costumes were offset by the deep brown patina of the eight cellos as the musicians sat in an arc in front of a curved, metre-high white sand-covered rostrum which spanned the up-stage area.
The piece was divided into three distinct parts. The first, Descending, was fairly low key with the two dancers, Quentin Roger and Maria Chiara Mezzadri, dancing separately on the rostrum with little reference to each other, being almost an accompaniment to the Octet.
Summa really came alive in the second part, Remaining, where the couple formed a relationship and the exuberance of the choreography came to the fore with both dancers excelling.
Ascending was the final part of the piece in which the relationship fell apart. The dancers, both now stripped to the waist, were again separated, he on the rostrum, she on the stage below. The agonised contortions of the two sweat-covered naked torsos expressed an unbearable torment which was powerful and heart-rending.
The short epilogue brought the couple together again but with, it seemed, little hope of reconciliation as they both stood cruciform with sand running slowly though their fingers before the piece culminated in a moving pieta.
Arvo Pärt's music was an integral part of Summa, much more than just an accompaniment. The eight musicians were an essential element of the visual presentation and one sometimes found oneself watching them rather than the dancers. The orchestration was ideally suited and exploited the rich tones of the cello and moved seamlessly from melodic, sublime moments to those of aggressive discord punctuated by sustained silence. The flavours and colours of the composition had echoes of Schubert, Schoenburg, Max Richter and, not surprisingly, every other cello piece you care to think of and was a joy to be immersed in.
Visually the whole piece was spectacular with Samir Calixto's own simple but effective set design enhanced by the simplicity of the white costumes, designed by Min Li, and the beautiful ever-changing lighting created by Pavla Béranova. A very pleasing and satisfying evening which bodes very well for the rest of the Festival to which I am looking forward tremendously.      Michael Hasted   27th January 2018