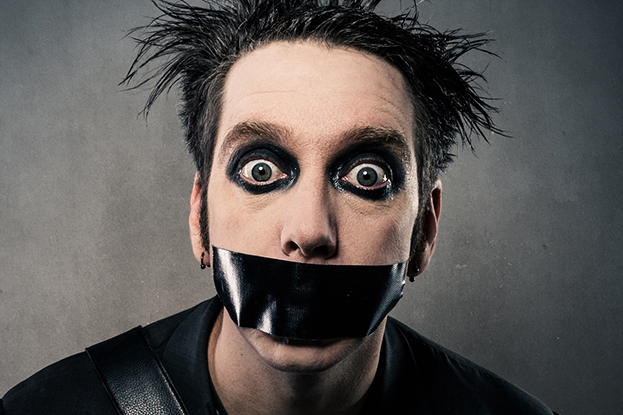 21st January.
"EDINBURGH FRINGE SUPERSTAR"   ★★★★★     Guardian
New Jokes, New Props, Same Tape
After storming into America with appearances on America's Got Talent, as well as America's Got Talent – The Champions plus a residency in Las Vegas, Tape Face arrives in The Netherlands. To date he has been viewed by 51 million people online.
Putting your shoes on will never be the same after seeing this show.
"SHEER JOY…PROPERLY FUNNY, TRULY WONDROUS STUFF."  ★★★★★   Times
Sam Wills first launched his wonderfully unique creation, Tape Face, on an unsuspecting Edinburgh Festival Fringe in 2010 where the show was an unmitigated success, delighting audiences and critics alike and receiving the Foster's Comedy Award nomination for Best Newcomer. His appeal transcended boundaries of age, language and culture and it was no surprise that he received the Fosters' Comedy Awards Panel prize in 2012 following a totally sold out season at the 750 seater Pleasance Grand.
"A JOYOUS ADVENTURE-PLAYGROUND OF GAMES AND POP CULTURE PARODIES."    Metro
In 2016 Tape Face reached the final of America's Got Talent (footage of his first audition has already been viewed over 45 million times on Youtube) and went on to present his debut seasons in Las Vegas as well as extensive tours of the UK and America. This was followed with a critically acclaimed season in London's Garrick Theatre and three regional tours of the USA. Earlier this year he was invited to perform on America's Got Talent: The Champions and currently has a three year residency in Las Vegas. He has also appeared on The Royal Variety Show.
Tape Face's wonderfully imaginative use of household ephemera to entertain has led to him being one of the world's most popular entertainers with sold out shows wherever he performs. So grab a ticket and prepare for another storm before it's too late.