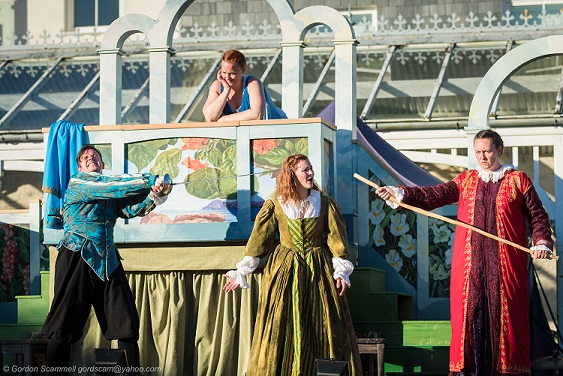 August traditionally brings lots of out-door events throughout our area with music and theatre predominant.
Theatre-wise August, and hopefully fine weather, heralds STET The English Theatre's annual outdoor Shakespeare extravaganza. This year the English company Illyria present THE TEMPEST at Kersouwe in Heeswijk-Dinther,  Raadhuis de Paauw in Wassenaar  and Schovenhorst on the Schovenhorst Estate. During the day, for the kids, the company presents ALI BABA.
We also make a rare foray into stand-up comedy when we will be at the Boom Chicago in Amsterdam to see their new show, THE FUTURE IS HERE… AND IT IS SLIGHTLY ANNOYING. It's all about technology, and it also uses technology in a ground-breaking way.
The always excellent, and free, four day DELFT JAZZ FESTIVAL takes place at the end of the month in and around the city centre with the main events taking place in the main square, the Markt.
Another regular August jazz event is Den Haag's annual JAZZ IN DE GRACHT (literally Jazz in the Canal). The festival takes place on around the picturesque canals of the city and is an experience that few countries offer. This free event creates a unique atmosphere and is a way to truly enjoy this beautiful city and all the talent that is hidden within. The artists will pass by the canal quaysides in The Hague on characteristic, flat bottom boats.
CELEBRATING DISSENT – A festival for and by women, dissenters and exiles takes place at De Balie an Amsterdam for three days from 30th August where women and men from various countries, religions and cultures gather to celebrate freedom through theatre, talks, poetry, film and stand-up comedy. Almost all of the speakers at the festival receive death threats on a daily basis, they are banned from their home countries, or they cannot leave their house without security guards, because of who they are or because of their convictions.
In the visual arts the amazing exhibition Joana Vasconcelos I'M YOUR MIRROR is at the Kunsthal in Rotterdam where later in the month the exhibition JOOST SWARTE EVERYWHERE pays homage to fifty years of drawing by presenting a cross section of Swarte's body of work – from his first cartoons, original drawings, sketches, designs and objects to his most recent work.